Oh my goodness, I've been a horrible blogger lately! I hate that I haven't been posting very often...for my loyal readers, and for the sake of our memories! Things are just so crazy right now with my business, and I hardly have time to even breathe! I am still loving every minute of it, but with portrait sessions, editing, assembling wedding invites, and my duties as a wife and mother...I could really use a few more hours in the day! I am looking forward to next month, when things will slow down and I can enjoy the holidays!
Of course I'm also forcing myself to work on my Blurb book every chance I get!! I have decided in 2010, I will slurp my posts and pictures into Blurb at the end of each month. That way I'm not doing a whole year's worth and then trying to tweak the layout. I am WAY too anal for that business! Plus, I'm finding that it's telling me some of my images are low resolution and may not print well?!?! I don't understand it. Anyone that's done a book know about this? It doesn't make sense...I will have three images in a post (example: 4th of July) that were all taken the same day, with the same camera, uploaded the same way, etc. AND it's telling me that two of them are fine, but one has the little low-resolution "warning" symbol over it? Anyone? It's only frustrating to me because all of my pictures from my 2008 blog are on the PC in our office. I only use that computer if I'm printing invites or envelopes for clients, and I don't have the Booksmart software downloaded on it. I'm not sure what's the easiest way to get these pictures replaced. I don't want to have to leave them out of the book!
AND...what's a post without a few pictures!?!
(A few pictures that might be fun to share with Barrett's first girlfriend)
Barrett loves to dress-up in our clothes, hats and shoes. Every morning while I'm in the bathroom getting ready, he's sitting on the floor of our closet putting on our shoes. He loves Daddy's work boots, cowboy boot and tennis shoes. He likes my flip flops and high heels. He also loves to wear Daddy's hats around. And yes, he's also still sporting the Christmas capri jammies. They're all the rage, people!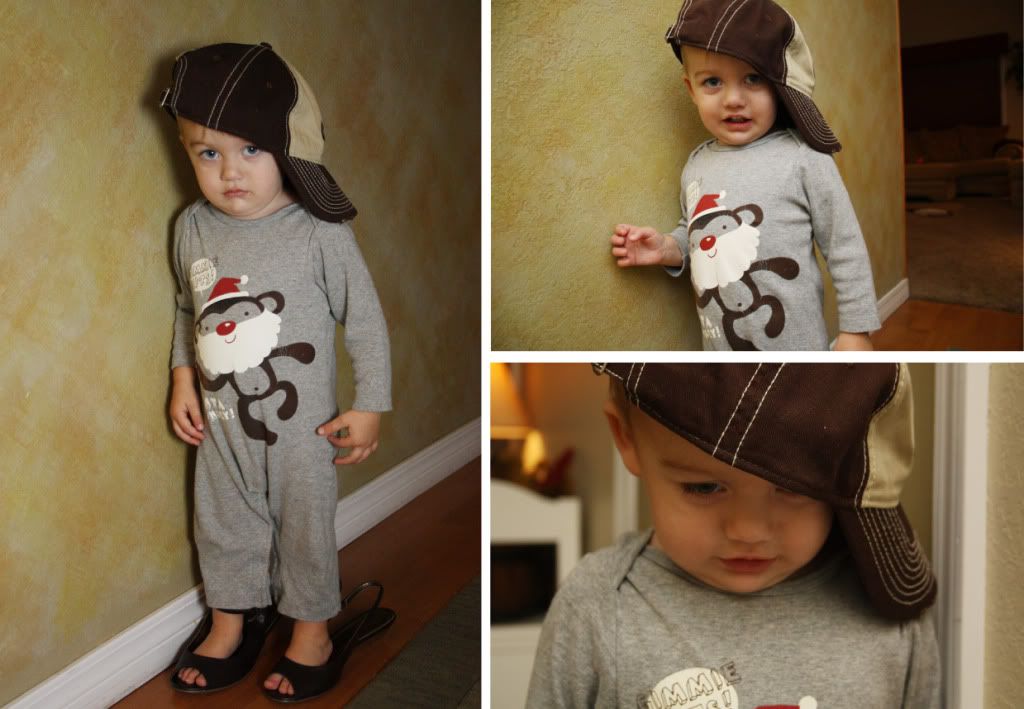 By the way...If you were praying for Stellan, but haven't heard the AMAZING news, you'll want to
go check it out
!
The game is over...and God, Stellan's doctors and Stellan all hit a HOME RUN! Wow!